Do Americans Live In A False Reality Created By Orchestrated Events?
Dr. Paul Craig Roberts was Assistant Secretary of the Treasury for Economic Policy and associate editor of the Wall Street Journal. He was columnist for Business Week, Scripps Howard News Service, and Creators Syndicate. He has had many university appointments. His internet columns have attracted a worldwide following. Visit his web site at the Institute for Political Economy.
In his recent article, he asks, "Do Americans Live In A False Reality Created By Orchestrated Events?"
I personally believe he is bang on. Americans been dumb(ed) down to the point they are unable to discern truth from the orchestrated fiction the controllers provide for them. An American project of ongoing social engineering that has imprisoned an entire population.
Most people who are aware and capable of thought have given up on what is called the "mainstream media." The presstitutes have destroyed their credibility by helping Washington to lie—"Saddam Hussein's weapons of mass destruction," "Iranian nukes," "Assad's use of chemical weapons," "Russian invasion of Ukraine," and so forth. The "mainstream media" has also destroyed its credibility by its complete acceptance of whatever government authorities say about alleged "terrorist events," such as 9/11 and Boston Marathon Bombing, or alleged mass shootings such as Sandy Hook and San Bernardino.

Despite glaring inconsistencies, contradictions, and security failures that seem too unlikely to be believable, the "mainstream media" never asks questions or investigates. It merely reports as fact whatever authorities say.
The Totalitarian Democratic States of America
Totalitarian democracy, or Mezionism, is a term made famous by Israeli historian J. L. Talmon to refer to a system of government in which lawfully elected representatives maintain the integrity of a nation state whose citizens, while granted the right to vote, have little or no participation in the decision-making process of the government.
Sounds about right, doesn't it? It is easier to see the downfall of this once great empire from the outside, looking in.
In this article Dr. Roberts shows us how easily it is for anyone to connect the dots and uncover the truth. Personally, I believe that unless the majority wake-up to totalitarian control America will be lost.
The prime example is 9/11. Large numbers of experts have destroyed the official story that has no factual evidence in its behalf. However, even without the hard evidence that 9/11 truther's have provided, the official story gives itself away.
We are supposed to believe that a few Saudi Arabians with no technology beyond box cutters and no support from any government's intelligence service were able to outwit the massive surveillance technology created by DARPA (Defense Advanced Research Projects Agency) and NSA (National Security Agency) and deal the most humiliating blow to a superpower ever delivered in human history. Moreover, they were able to do this without the President of the United States, the US Congress, and the "mainstream media" demanding accountability for such a total failure of the high-tech national security state.
Instead of a White House led investigation of such a massive security failure, the White House resisted for more than one year any investigation whatsoever until finally giving in to demands from 9/11 families that could not be bought off and agreeing to a 9/11 Commission.
The Commission did not investigate but merely sat and wrote down the story told to it by the government. Afterwards, the Commission's chairman, co-chairman, and legal counsel wrote books in which they said that information was withheld from the Commission, that the Commission was lied to by officials of the government, and that the Commission "was set up to fail." Despite all of this, the presstitutes still repeat the official propaganda, and there remain enough gullible Americans to prevent accountability.
Competent historians know that false flag events are used to bring to fruition agendas that cannot otherwise be achieved. 9/11 gave the neoconservatives, who controlled the George W. Bush administration, the New Pearl Harbor that they said was necessary in order to launch their hegemonic military invasions of Muslim countries.
The Boston Marathon Bombing permitted a trial run of the American Police State, complete with shutting down a large American city, putting 10,000 armed troops and SWAT teams on the streets where the troops conducted house to house searches forcing the residents out of their homes at gunpoint. This unprecedented operation was justified as necessary in order to locate one wounded 19 year old man, who clearly was a patsy.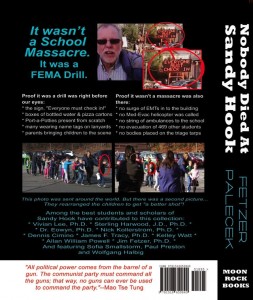 There are so many anomalies in the Sandy Hook story that it has generated a cottage industry of skeptics. I agree that there are anomalies, but I don't have the time to study the issue and come to my own conclusion. What I have noticed is that we are not given many good explanations of the anomalies. For example, in this video made from the TV news coverage, https://www.youtube.com/watch?v=xaHtxlSDgbk the video's creator makes a case that the person who is the grieving father who lost his son is the same person outfitted in SWAT clothes at Sandy Hook following the shooting. The person is identified as a known actor. Now, it seems to me that this is easy to test.
The grieving father is known, the actor is known, and the authorities have to know who the SWAT team member is. If these three people, who can pass for one another, can be assembled in one room at the same time, we can dismiss the expose claimed in this one video. However, if three separate people cannot be produced together, then we must ask why this deception, which raises questions about the entire story. You can watch the entire video or just skip to the 9:30 mark and observe what appears to be the same person in two different roles.
The "mainstream media" has the ability to make these simple investigations, but does not. Instead, the "mainstream media" calls skeptics "conspiracy theorists."
Sandy Hook was a FEMA Drill
There is a book by Professor Jim Fetzer and Mike Palecek that says Sandy Hook was a FEMA drill to promote gun control and that no one died at Sandy Hook. The book was available on amazon.com but was suddenly banned. Why ban a book?
Here is a free download of the book: http://rense.com/general96/nobodydied.html I have not read the book and have no opinion. I do know, however, that the police state that America is becoming certainly has a powerful interest in disarming the public. I also heard today a news report that people said to be parents of the dead children are bringing a lawsuit against the gun manufacturer, which is consistent with Fetzer's claim.
Here is a Buzzsaw interview with Jim Fetzer:
If the information Fetzer provides is correct, clearly the US government has an authoritarian agenda and is using orchestrated events to create a false reality for Americans in order to achieve the agenda.
It seems to me that Fetzer's facts can be easily checked. If his facts check out, then a real investigation is required. If his facts do not check out, the official story gain's credibility as Fetzer is one of the most energetic skeptics.
Read the full story: http://www.paulcraigroberts.org/2016/02/24/do-americans-live-in-a-false-reality-created-by-orchestrated-events-paul-craig-roberts/
Images courtesy of Institute for Political Economy and Rense.com