There is No Normal
Social Engineering "The craziness has been amped one hundred-fold. It is way beyond the point of concern. Those not completely doped with – whatever mind-numbing device or substance, willingly administered or not.
Welcome to the New Normal
The world as we know it has changed. We are in the shift. We are evolving. It is the light against the dark. Who are the players and which side they are on? Discernment will show you the way. Personally I am of the opinion that many of those who profess to stand behind truth and justice are the same who prefer that we stay small and stay oblivious to their nefarious plans.
It is concerning to me that a NATO partner, Turkey has been importing oil from Syria, provided to them by your friendly neighborhood American supported ISIL terrorist. This fact, truly boggles my mind.
In any event John Lennon sums it up quite well in Working Class Hero. I hope you enjoyed the music and the post by Linda George for Waking Times.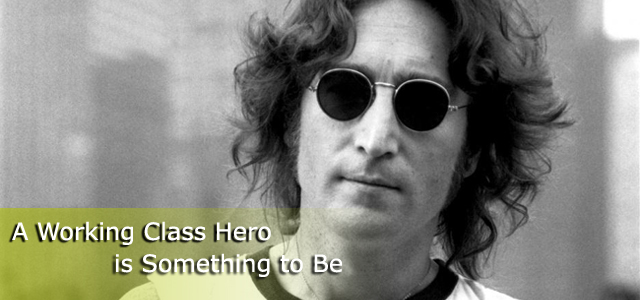 Working Class Hero – Lyrics

As soon as you're born they make you feel small
By giving you no time instead of it all
Till the pain is so big you feel nothing at all
A working class hero is something to be

They hurt you at home and they hit you at school
They hate you if you're clever and they despise a fool
Till you're so fucking crazy you can't follow their rules
A working class hero is something to be

When they've tortured and scared you for twenty-odd years
Then they expect you to pick a career
When you can't really function you're so full of fear
A working class hero is something to be

Keep you doped with religion and sex and TV
And you think you're so clever and classless and free
But you're still fucking peasants as far as I can see
A working class hero is something to be

There's room at the top they're telling you still
But first you must learn how to smile as you kill
If you want to be like the folks on the hill

A working class hero is something to be
If you want to be a hero well just follow me
The final line, "If you want to be a hero well just follow me" is John's way of recognizing that he is as much a part of the problem as the rest of us. The road to financial freedom isn't about seeking perfection – it's about making progress and improvement. Don't strive to be perfect, work towards making progress. Choose not to be a working class hero. Source
The craziness has been amped one hundred-fold. It is way beyond the point of concern. At least it is for anyone half awake to what is going on. Those not completely doped with – whatever mind-numbing device or substance, willingly administered or not. It's a challenge indeed to find the words to express the enormity of the derangement of the collective psyche. For what else can it be?

We cannot help but subscribe to the 'us and them' mentality. Whether at the level of religious belief, of nationhood, or of the controllers – that is the authority figures and the elite that control them – and the rest of us. Always this divide. The schisms that once were have become monumental chasms, tearing apart the fabric of our society and it seems, our very humanity.

Like you, I have been reading on sites like these, advice and suggestions on how to survive this chaos. We are told to become more spiritual, to see beyond the propaganda, to disconnect from the common grid, to eat this, drink this – or don't eat this or drink that. We are advised to do meditation, yoga, this or that therapy. Countless spiritual sorts (myself not excluded) are offering their services in astrology, numerology, tarot – whatever – in a quest to help others and find meaningful work for themselves both. How many of us are writing columns such as this as we attempt to make sense of it all? We are inundated with new narratives to explain what is really going on. Of course there are conspiracies. Legions of them. If you haven't got that by now – there's nothing I can say.

Read the full story on http://www.wakingtimes.com/2015/12/01/there-is-no-normal/

Images courtesy of seejacksave.com http://seejacksave.com/a-working-class-hero-is-something-to-be/